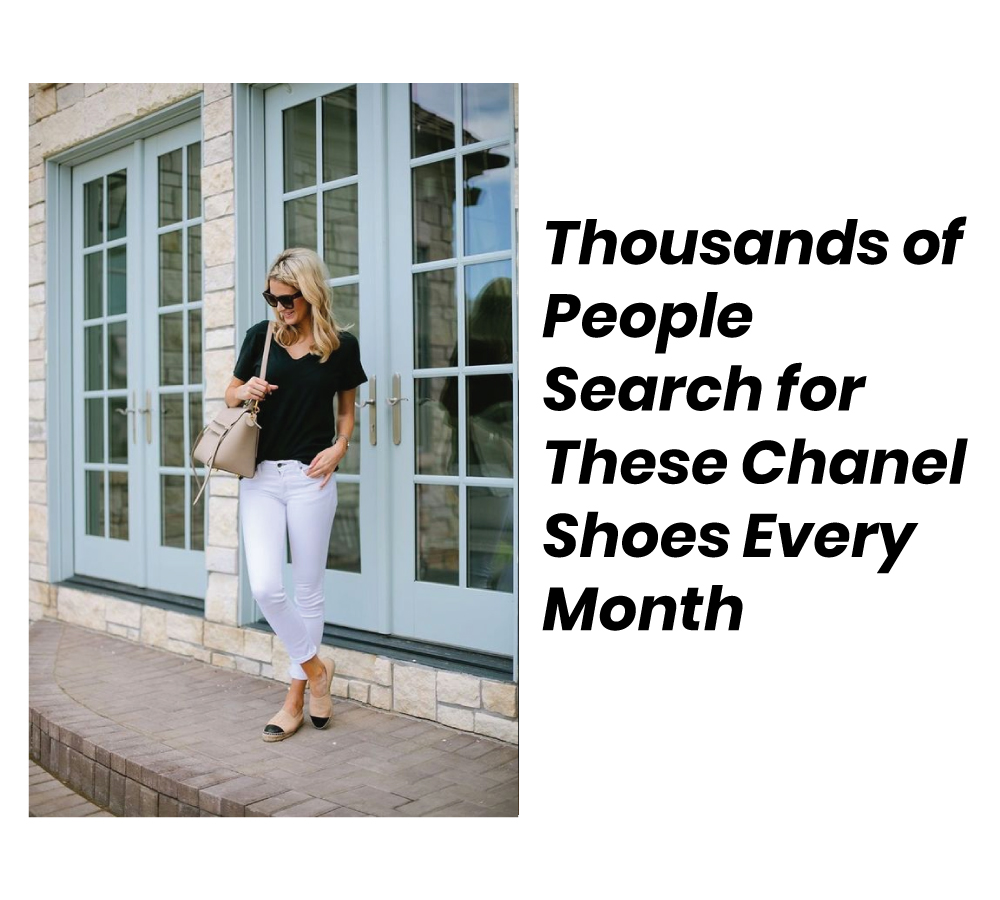 28 July 2020
Posted on September 18th, 2020 at 06:01 pm
Originally posted at Who What Wear
When you ruminate on Chanel's most iconic pieces, of course, handbags jump straight into view. Who can deny the decades-long tenure of a quilted 2.55? But if you put down the arm candy and step away from the tweed, there's another Chanel icon that always rises in popularity in the summer months. One that encapsulates French Riviera dressing better than any other piece on the rail. Welcome to the reign of the Chanel espadrilles: an item that is searched for between 10,000 and 100,000 times a month, according to Google Analytics.
Now, while there's plenty of love for the Chanel chunky Velcro sandals (just open Instagram and you'll see dozens), it's worth noting that these flats are chic yet comfortable and inimitably elegant. Really, there's no other shoe that strikes the balance between style and sensibility quite so well.
No wonder, then, that Chanel espadrilles are fast becoming one of the fashion house's must-have pieces each and every time the summer season comes around. So to make sure you're in the know about summer's cult shoe, keep scrolling for your complete guide to buying and styling Chanel's iconic espadrilles.
The Backstory
Every icon has one, so where does the story of Chanel's espadrilles begin? Despite the classic non-branded espadrille itself dating back to the 14th century (granted, before Coco Chanel's time), and becoming fashionable in the 1940s thanks to Lauren Bacall's Key Largo wardrobe, the Chanel espadrilles didn't debut until 2013. Long after Yves Saint Laurent had made wedge espadrilles popular in the 1970s.
An evolution of the classic Chanel ballet flat, Karl Lagerfeld's S/S 13 espadrilles teamed a pastel canvas upper with the interlocking Cs logo and an almost-gold toe cap. But as with all things Lagerfeld, things moved fast from there. The introduction of the now-famous leather version from the Parisian fashion house changed the game for summer footwear forever—buttery soft, chic, durable and great for the city as well as the beach?
The current resort and spring collections feature a hot medley of quilted lambskin, patent leather toe caps, as well as the fashion house's classic tweed. So if you've yet to join the gang, now's the time to strike.
Where to Shop
Notoriously, Chanel still opts out of the online retail scene. That means if you want to treat your feet to a pair of Chanel espadrilles, they're going to have to carry you straight to a Chanel boutique.
Price-wise, for a new pair, you're looking at leather espadrilles starting at £510 and going up to £560. Of course, you could be savvy and snap up a secondhand pair on a website like Vestiaire Collective, but it would appear that this one shoe style tends to hold its value, with pre-loved espadrilles going for closer to the £500 mark.
How to Wear Chanel Espadrilles
Just like all things Chanel, the list of espadrille fans is endless. From supermodels including Gisele Bündchen, Kelly Rowland, and Alessandra Ambrosio to street style stars Chiara Ferragni and Aimee Song, the cult footwear has graced the feet of many a fashion VIP. Which just proves our point that with Chanel espadrilles: You really can style them with anything.
Skinny denim and a blazer? Fancy haute couture? Keep scrolling for four ways to wear your Chanel espadrilles.
Skinny Jeans + Blazer
Frothy Dresses
A Classic Jumpsuit
Preppy