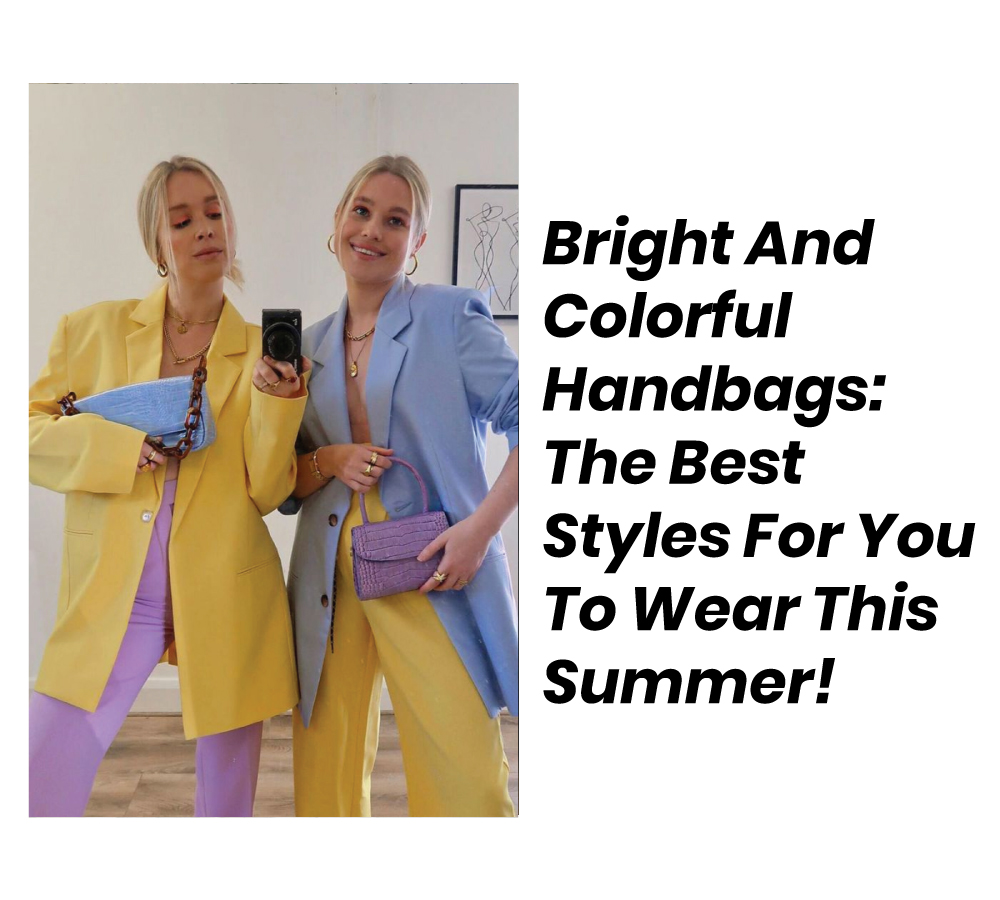 21 July 2020
Posted on September 18th, 2020 at 06:00 pm
Do you know which colors are going to be in style this season? There are quite a few, but the most important thing is that when it comes to handbags, you choose the most eye-catching color you possibly can. The latest street-style looks confirmed it, where this accessory in a full spectrum of vibrant shades took center stage.
As far as trends go, we can see that some designs carried over from previous seasons—like the XL clutch and mini crossbody bags, with the most popular being those in vibrant summer tones. It shouldn't be hard to combine them. You have so many options that you could wear with white, tan, or any pastel to create a guaranteed great look. Although, you could also be a little more daring and experiment with wearing them with other bright, bold colors.
The one that every woman wants​
Shoulder bags usually rank number one when it comes to practicality. Join the color trend without having to leave any of your necessities behind with the Belvedere Logo Lock Shoulder Bag by Dooney & Bourke. Amazon ($278).
Love in lavender
Even though Classic Blue was selected as the color of 2020 according to Pantone, within the fashion world it's actually purple—in the pastel version, one of its biggest competitors. Of course, accessories can't be left out and the Quilted Handbag With Chain Detail is proof of that. Bershka ($19.90).
The most practical​
Another crossbody design you can wear in one of these lovely colors is the Buckled Cross-Body Bag , which features several interior compartments. Mango ($39.99).
Wild-textures
Snake printis still in style and the Matteo Bag from LPA, simulates the snake skin texture in lime green on the exterior, while the interior includes multiple compartments. Revolve ($68).
Geometric designs​
When it comes to summer bags, the natural woven fiber ones—or similar types—could never be left out, especially this year being their moment to shine. The Ponedera Rectangle Satchel by Kaanas is a very practical way to store your belongings, thanks to its square design—one of the most popular in street style this time of year. Revolve ($109).
More shapes!​
Following suit with the geometric designs that are going to be seen everywhere, the Boxy Top-Handle Bag has a rectangular shape that includes a handle and removable strap for added comfort. J.Crew ($148).
Less is more​
The designers confirmed that mini crossbody bags are still in style this spring-summer; both for day and night, and it's one of the options celebrities love.
The Texture Mini Bag is a 2-in-1, combining the petite trend with the croc-effect, which will surely get noticed this time of year. Mango ($29.99).
Pearls and more pearls
The Classic Mini Pearly Handbag by Shrimps keeps the typical mini bag shape but has a lot more personality with its blue pearl exterior. You'll want to wear it both day and night! Neiman Marcus ($287).
Soft as silk
We could consider this the season of the extremes: on one side we see mini bags are quite the sensation and, on the other, XL clutches, like this Soft Leather Frame Handbag, are a big hit. In addition, the gathered effect is a stylish touch that is being seen more in bags. Zara ($129).
Summer heat
And if you want to wear several colors in one, the Scarf Shoulder Bag has an undeniable beach-feel to it, thanks to its colorful boho print that is sure to add a lot of personality to your outfits. Zara ($69.90).
It doesn't matter which type of bag you pick, as long as your summer bag is bright… and very colorful!