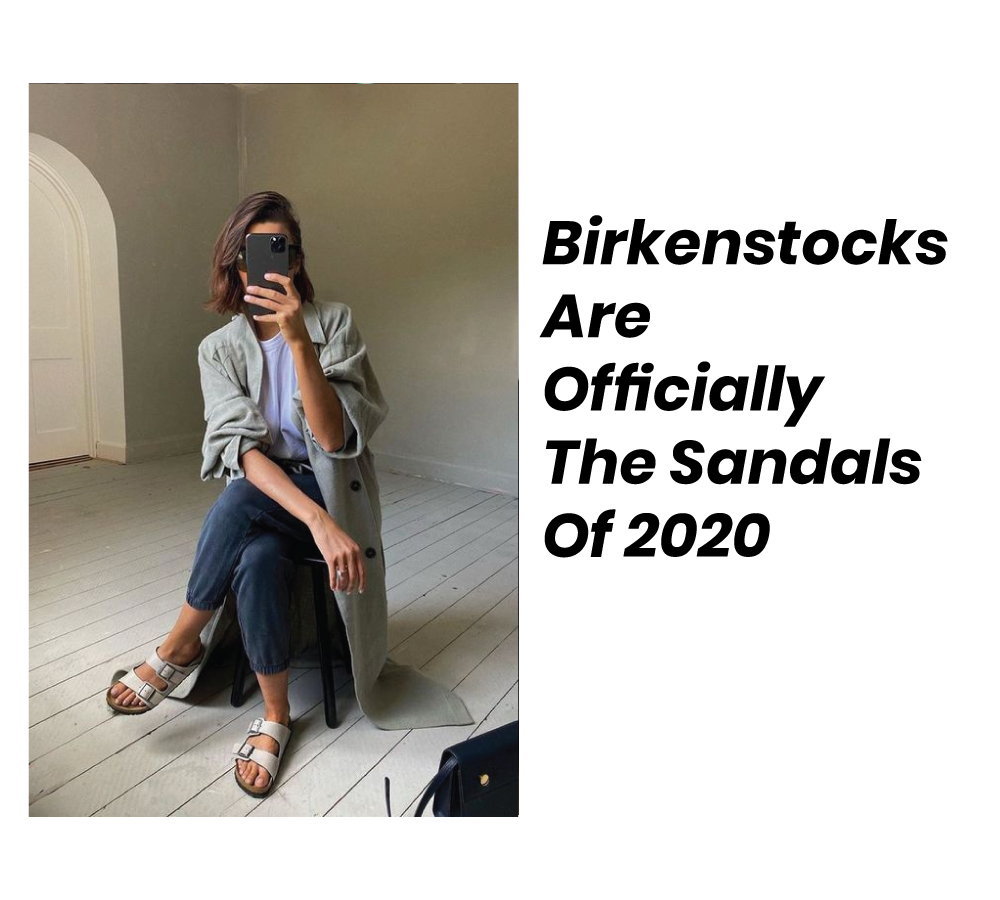 4 August 2020
Posted on September 18th, 2020 at 06:02 pm
Originally posted at Vogue UK
The humble Birkenstock has become fashion's great equaliser during quarantine. The German footwear label's affordable Arizona style – which is branded as an "often-imitated, never-duplicated, category-defining two-strap wonder" – was the most popular item on Lyst, the global fashion search platform, between April and June. Interest in the functional dad sandals was up 225 per cent over the quarter, with the £65 Birks sold out at most retailers.
While lockdown-induced leisurewear certainly played a part in Birkenstock's new star status, Lyst credits the company's fashion collaborations with Rick Owens, Valentino and Proenza Schouler as the reason behind its amped-up style credentials. The latter tie-up piqued the interest of editors and influencers alike when it launched in March. Nowadays, it's hard to idly scroll down Instagram without spotting a pair of the black glossed-leather sandals with white topstitching.
Lyst reports a 92 per cent spike in searches for Birkenstocks following the release of the Proenza collab, while Matches Fashion sold 60 per cent of its stock in the first three weeks. "We have seen amazing interest here," Cassie Smart, head of womenswear buying at Matches, tells British Vogue. "The collaboration feels very modern with the contrast stitching and Velcro fastening which adds a point of difference." Net-a-Porter, which had the initial exclusive, confirmed a similar success story. "We are continuing to see this week on week, where our customer is seeking comfortable footwear options," says Elizabeth von der Goltz, Net-a-Porter's global buying director. The black has been the most popular, but, she adds, "I have them in silver and love them!"
Debuted on the spring/summer 2020 runway, Proenza Schouler models carried the brand's sporty take on Arizonas, along with colour-coordinated bags, in their hands. The look was business realness: once office hours are over, the heels are off and the Birkenstocks are on. Smart, indeed, affirms: "Matches customers are always looking for effortless footwear options that will work with lightweight dresses and denim", for downtime.
The pandemic has meant that Proenza Schouler's contemporary iteration of the slipper-like sandal has not set foot in many offices (or indeed bars) this season. Rather, Birkenstock's signature moulded footbed sandals have become the #WFH-ers shoe of choice. "The construction, which has been thought out to the smallest detail and makes it feel like you're standing in sand, helps your feet feel as comfortable as possible for hours on end," promises the 1774-founded business. "This supports health and promotes wellbeing." Even the most die-hard fashion followers can't argue with that.